一. A listing for a classical bbq yard game
1.1 Giant Jenga
Jenga, also called tumbling tower, stacking blocks is a classic wooden educational building block yard games toys, it is simple and easy to play, can exercise hand-eye coordination and willpower, and can develop balance, while the process of building blocks can also improve patience and self-control, can exercise hand muscle flexibility application, it is also suitable for adults to use, more as a family game, to enhance the parent-child relationship. Today, in ordinary families, everywhere, and also become the classic toys in bars around the world.
1.2 Kubb drinking game
The Kubb Yard Game is a classic Swedish/Finnish throwing lawn game that provides hours of fun for family reunions, birthday parties, or any outdoor event, this set will provide years of fun on the lawn, sand, or even snow.
1.3 Ladder golf
The Lawn Ladder Toss Game Set is very easy to set up and learn. Gather your family and friends for such classic competitive outdoor ladder games at campsites, backyard parties, and more.
1.4 Drinking Ring Toss (hook ring toss)
Fun game for all ages: The hook and loop game is suitable for all ages and can bring hours of entertainment while helping players improve their hand-eye coordination. Game guide: Place the wooden cylinder in the center of the circle, remove the hooks on both sides and start playing! Each time you land on the hook, move the wooden cup 1 space towards your opponent. When the wooden cups move from the end of the ladder, s wins. Fun and perfect team game toy: You can play the game with colleagues, classmates, and friends. Take you to a car tailgate party, beach, family vacation, camping, or even a neighborhood garage party! HIGH QUALITY AND DURABLE: The knots, grooves, and dents in the wood are what give our products their rugged look, and each piece of wood is carefully crafted to be completely unique. Easy to assemble: Very easy to assemble, comes with all parts and assembly instructions. Simply assemble them, insert the pins into the base and top bar, and they can also be easily disassembled for storage.
二. Recommendation for yard games
2.1 Drinking ring toss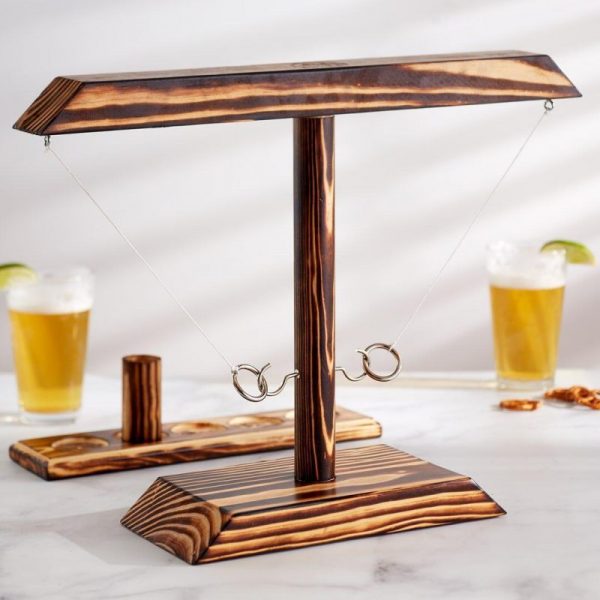 2.2 Kubb game
2.3 Giant Connect Four
三、How do we produce yard games?
3.1 incoming material check
3.1.1.1 the wood must not be shaken in the middle, no rotten wood is accepted, and the humidity is controlled within 8-12 degrees.
3.1.1.2 Do not accept materials with sloping edges, serious bending, and defects.
3.1.1.3 the size must be accurate, acceptance will be in accordance with the size of the fixed material inspection square, only positive tolerance is allowed, do not accept the size of small.
3.1.1.4 Do not accept the wood is blistered discoloration.
3.1.1.5 The spelling board should play the male and female groove (depth should reach 6MM), the number of flat score spelling board. The Board surface should be smooth and flat, can not have a large area of soil, surrounded by right angles.
3.1.1.6 V-groove can not have glue, spelling board to be firm, can not have gaps.
3.1.1.7 Where the width of the spelling board should be widened by 5MM, the length of 10MM.
3.1.1.8 Do not accept the missing section, the product must be sorted and placed neatly in the transportation process.
3.2 Production process and flow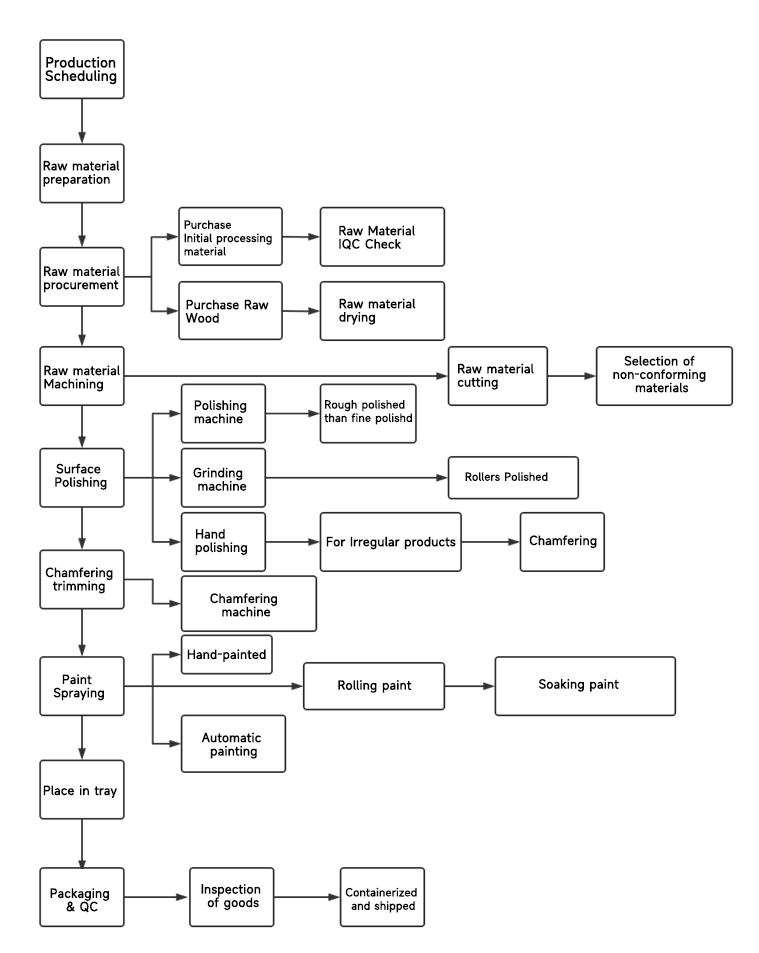 3.3 QC Inspection
As a professional manufacturer of yard games, wonderland sport takes product quality and safety seriously. We have a very strict product management system to ensure product safety.
The following are common safety issues for garden games.
Dead knot, one dead knot is not allowed in a batch of large goods. Dead knot range: Any knot that can be made to fall off with fingers and tools is considered a dead knot. The factory should remove the dead knots in the production to make up the soil. Pictures of acceptable and unacceptable knots are shown below.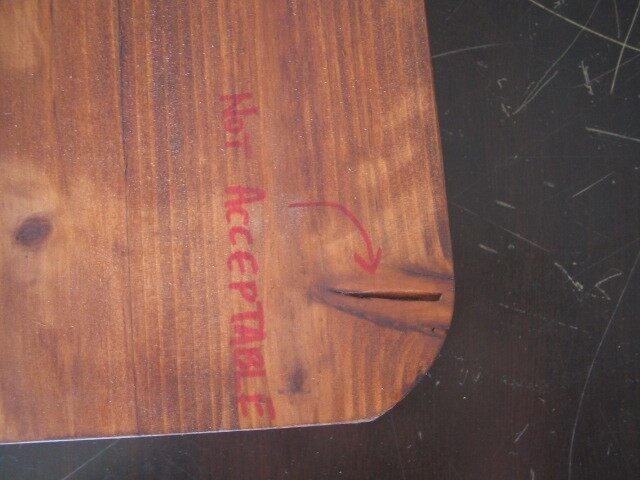 2. sharp edges, corners are too sharp without chamfering, there will be a risk of cutting hands. All edges must guide the R angle.
3. humidity, outdoor fir products humidity: 8-12%. Can not exceed this range. (The following picture is unacceptable)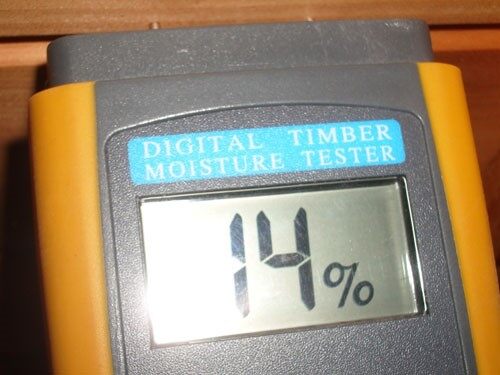 Our Service
4.1 Bulk Order OEM Service
We sold adventure games items to millions of customers every year, the top quality products were mainly supplied to the big stores, like Sam's, Lowes, Target, Intersport, COOP worldwide, and it still keeps growing.
4.2 Product Project R&D Service
As an outdoor toy games leading manufacturer, we are helping customers develop more than 50 new projects to the market every year, we have our professional engineer to make the idea come true, all products/material tested in own testing lab, guarantee the product to meet the customer requirements.